Instructor in Emergency Medicine


Dr. Chary's research focuses on using artificial intelligence for drug discovery and syndromic surveillance. His overarching goals are to expand medical reasoning beyond the limits of human faculties and to use unstructured data from the Internet to identify spatiotemporal patterns of substance use, disease exposure, and disease manifestation. He uses natural language processing, machine learning, and artificial intelligence to create computational versions of medical and scientific knowledge to allow computers to reason about medicine as experienced clinicians might.

Dr. Chary graduated from New York University, and received his medical degree and doctorate from Mount Sinai School of Medicine. He completed a fellowship in emergency medicine at NewYork-Presbyterian/Queens Hospital and a fellowship in medical toxicology at Boston Children's Hospital. He is board certified in both medical toxicology and emergency medicine.



Brock Daniels, M.D.
Assistant Professor, Emergency Medicine
Director, Community Tele-Paramedicine Program
Dr. Daniels earned an MPH from Boston University and completed his Emergency Medicine Residency at Yale University School of Medicine. As a fellow at the University of California Davis Center for Healthcare Policy Research, I entered the AHRQ-funded Quality, Safety and Comparative Effectiveness Research Training (QSCERT) Program earning a Master of Advanced Studies in clinical research and health informatics.

His research focuses on implementation science and population-based quality improvement projects, particularly through informatics-based interventions such as Telehealth, Remote Patient Monitoring and electronic health record based algorithms to identify populations most likely to benefit from these interventions. His previous work includes development and implementation of clinical decision tools to improve resource utilization as well as a novel patient care model for lower acuity patients in the ED. He also leads institutional initiatives to implement the CMMI Emergency Triage, Treat and Transport (ET3) program as well as a collaboration with the New York City Fire Department and other NYC health systems to divert low-acuity 911 calls to hospital-based telemedicine programs. Dr. Daniels is also the site-PI for the MIGHTy Heart clinical trial, which is currently recruiting 2100 patients across NYC.



Peter Greenwald, M.D.
Associate Professor, Clinical Emergency Medicine
Vice Chair, Clinical Strategy and Innovation
Director, Telemedicine
Dr. Greenwald led the early implementation of telemedicine at Weill Cornell, which began using telemedicine for emergency department visits in 2016 and rapidly flexed their telemedicine expertise to meet the demands of COVID.
Dr Greenwald is particularly passionate about the future potential for telemedicine both in the United States and Internationally. In the education realm, he feels telemedicine has unrealized potential to expand capacity in both graduate and undergraduate training, including professional training in areas where such training has not previously been possible. In the clinical realm, he is interested in how provider to provider consultation through telemedicine can be used to build both capacity and quality. His is currently focused on exploration of these educational and clinical futures for telemedicine in an international context.




David Hancock, Ph.D.
Post-Doctoral Associate
Dr. Hancock received his Ph.D. in experimental psychology from Texas Tech University. His primary research focus will be on elder abuse. Reporting to Dr. Razzak, he will support the Division of Research in managing and analyzing databases for various departmental studies. In addition, he will work with Dr. Michael Stern, Dr. Tony Rosen, and the Geriatric Emergency Medicine and Vulnerable Elder Protection (VEPT) teams on research projects relating to the prevalence and predictors of elder mistreatment. 
Lynn Jiang, M.D.
Instructor in Emergency Medicine
Coordinator of Research Education and Training Programs


Dr. Lynn Jiang is an assistant attending physician in the Department of Emergency Medicine.  She also holds an appointment as an Instructor in Emergency Medicine at Weill Cornell Medical College.
Dr. Jiang earned her MD from Columbia University College of Physicians and Surgeons. She completed her residency training in Emergency Medicine at NYP Columbia-Cornell.
Dr. Jiang's research interests include sepsis and disaster preparedness
Associate Professor, Clinical Emergency Medicine
Dr. Levine has been practicing clinically for 24 years. In addition to her clinical acumen, she has also seen much success with her research portfolio. She has been successful in procuring investigator-initiated pharmaceutical grants, federally funded grants and creating a research consortium of eight pediatric emergency sites across the country. Her work has won awards such as best presentation at conferences nationally and been published in renowned peer reviewed journals including JAMA Pediatrics. She is also involved in a pediatric research collaborative using large data from INSIGHT, a PCORI-funded Clinical Research Network to study pediatric emergency utilization during the COVID-19 pandemic, including mental health. Dr. Levine is also part of the Pediatric Emergency Medicine Collaborative Committee of the American Academy of Pediatrics.




Yu Hsiang Johnny Lo, M.D.
Instructor in Clinical Emergency Medicine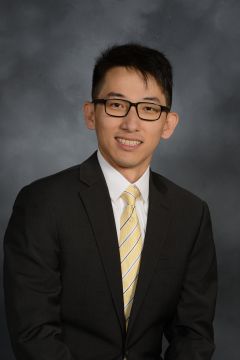 Dr. Yu Hsiang Johnny Lo graduated from New York Medical College and completed his pediatric emergency medicine residency at Cohen Children's Medical Center, Northwell Health. He subsequently completed a fellowship in pediatric emergency medicine at the University of Michigan, where he received the PEM Fellow Professionalism award. Dr. Lo is a frequent regional and national speaker on a broad range of pediatric emergency medicine topics, including trends in emergency department testing and management of hypothermic infants.
Assistant Professor, Clinical Emergency Medicine
As an intensivist and emergency physician, Dr. Owyang serves the Weill Cornell Medicine community as faculty with joint appointments in the Division of Pulmonary and Critical Care Medicine and Department of Emergency Medicine. His areas of research are ECMO in the ED and ICU, resuscitative transesophageal echocardiography, and the physiology of heart-lung interactions in critically ill patients. Recent peer-reviewed work has investigated venovenous ECMO in COVID-19, the physiology of assisted circulation devices in cardiogenic shock, and ECMO use across different types of ICUs via the ELSO Registry.
Professor, Emergency Medicine
Vice Chair, Research

Dr. Razzak is an accomplished researcher, with a wealth of research experience in emergency medicine, medical informatics and public health and is one the few NIH funded researchers in the area of global emergency medicine. In 2021, he was recruited to Weill Cornell as the Vice Chair of Research in the Department of Emergency Medicine from Johns Hopkins University, where he served as the director of the Center for Global Emergency Care and as a tenured professor of Emergency Medicine and International Health. He also worked at the NIH as a visiting scientist, leading NIH's Collaborative on Emergency Care Research in LMICs (CLEER). Additionally, Dr. Razzak has published more than 130 peer reviewed manuscripts on topics ranging from emergency care and vulnerable communities to innovation and technology. Currently, as part of his focus on global health, Dr. Razzak is working with Aga Khan University in Pakistan to establish the Center of Excellence in Trauma and Emergencies. Currently, as part of his focus on global health, Dr. Razzak is working with Aga Khan University in Pakistan to establish the Center of Excellence in Trauma and Emergencies. 
Associate Professor, Emergency Medicine
Associate Director, Research
Dr. Rosen is a nationally recognized expert in geriatric emergency medicine. He currently serves on the Board of Governors for the American College of Emergency Physicians' (ACEP) recently launched Geriatric ED Accreditation process. He is a core faculty member of the Geriatric ED Collaborative and is a contributor to the NIH-funded Geriatric Emergency Care Applied Research (GEAR) Task Force. From 2019-2020, he served as president of the Academy of Geriatric Emergency Medicine.

Dr. Rosen's research focuses on improving identification, intervention, and prevention of elder abuse in the ED and other health care settings. Dr. Rosen has contributed as a co-author on 53 original scientific publications in this focused area and has led the development of a first-of-its kind multi-disciplinary clinical intervention program. He has obtained 8 grants serving as Principal Investigator, including an R01, K76, and R03 from the National Institute on Aging (NIA) of the National Institutes of Health (NIH), a recent large grant from the New York State Office of Victim Services, and private foundation grants.
Assistant Professor, Emergency Medicine
Director, Global Emergency Medicine
Co-Director, Office of International Medical Student Education
Dr. Sundararajan is a board-certified Emergency Physician who conducts research on barriers to uptake of evidence-based healthcare in low resource settings. She received her doctorate in Anthropology from the University of Pennsylvania, her medical degree from New York University School of Medicine, and completed residency training at Massachusetts General/Brigham & Women's Hospitals. Dr. Sundararajan's work seeks to improve engagement with healthcare services in global, low-resource settings, with particular focus on improving HIV-related clinical outcomes in sub-Saharan Africa. Her research has shown that informal healthcare providers, such as traditional healers, have strong influence over their clients' health-seeking trajectories, and should be considered key stakeholders for HIV control program in endemic regions. With local academic and community partners, Dr. Sundararajan developed an HIV testing program where Ugandan traditional healers successfully delivered point-of-care HIV testing directly to clients of unknown HIV serostatus. She has conducted mixed methods and implementation research on both infectious and non-communicable disease in India, Mozambique, Uganda, and Tanzania. 
Assistant Professor, Emergency Medicine
Dr. Teran is a clinician scientist with research focus on cardiac arrest, with a special interest and expertise in the application of point-of-care echocardiography during cardiopulmonary resuscitation (CPR). He trained in Emergency Medicine and completed a fellowship in Emergency Ultrasonography at Mount Sinai Hospital. He is a testamur of the National Board of Echocardiography's Examination of Special Competence in Critical Care Echocardiography and has completed a Master of Science in Clinical Epidemiology (MSCE) at University of Pennsylvania.

As a translational resuscitation scientist, Dr. Teran's research aims investigate novel resuscitation strategies in both laboratory and clinical environments, with a primary interest in the study of CPR physiology and therapies that can lead to improvement in cardiac arrest outcomes by optimizing the effectiveness of CPR. Using transesophageal echocardiography (TEE), his current work focuses on the study of the physiologic effects of chest compressions in hemodynamics and cerebral perfusion, and their impact in resuscitation outcomes. Dr. Teran is also the principal investigator of the TEE Collaborative Registry, a multicenter research consortium aimed to accelerate the development of outcome-oriented research within this domain.