Innovative Local and International Programs, Focus on Telemedicine, Forges Department into National Model
November 1, 2023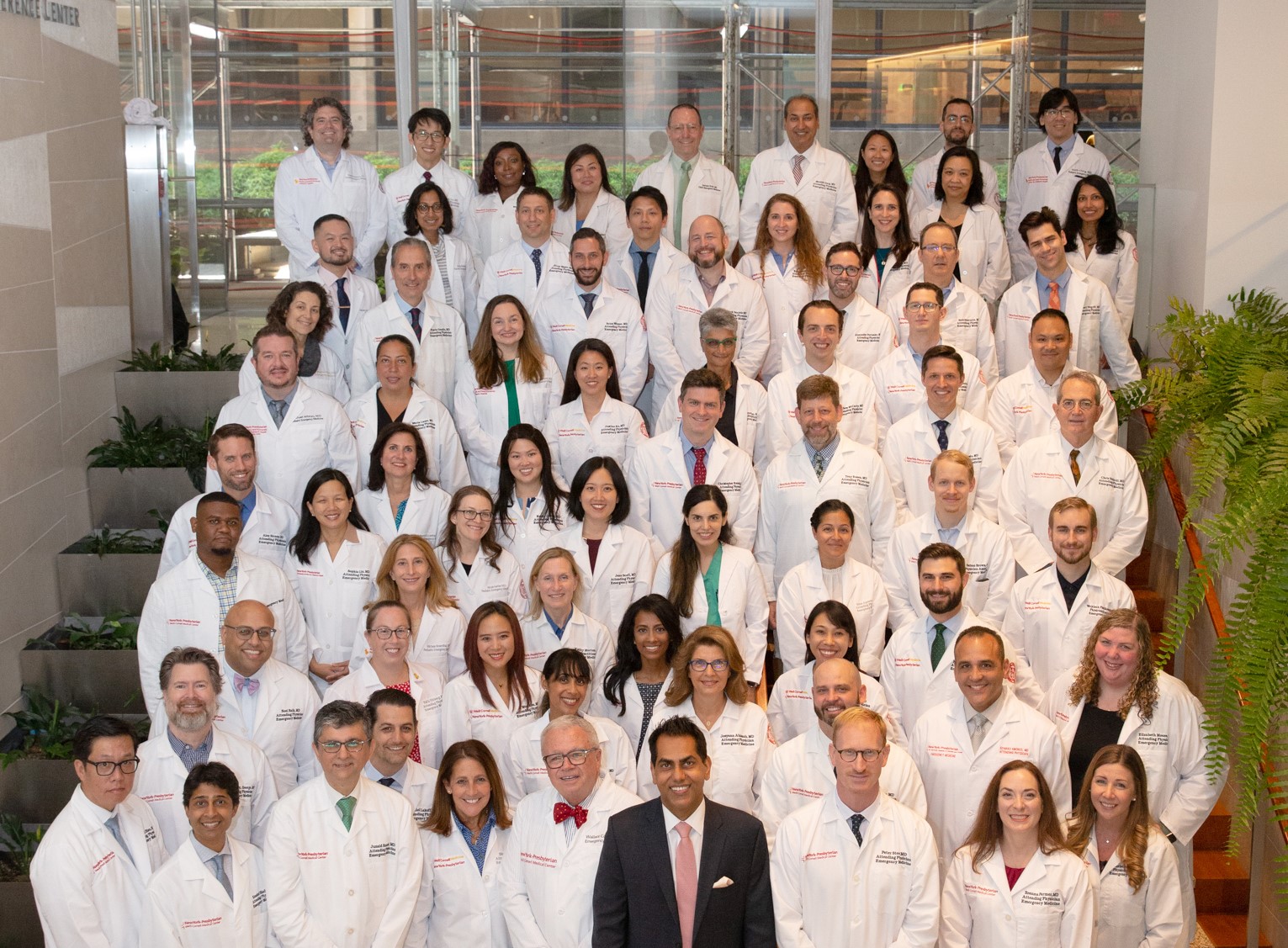 The Department of Emergency Medicine has made tremendous strides since 2018, when Weill Cornell Medicine elevated it to a full academic department, an achievement that underscores the department's mission to provide exceptional patient care.
"The past five years have been a period of exceptional growth and achievement and were also marked by unprecedented challenges," said Dr. Rahul Sharma, chair of the Department of Emergency Medicine at Weill Cornell Medicine. "COVID-19 changed the way we worked and delivered care; yet, true to our vision of leading emergency care with innovation, scholarship and compassion, our department adapted, evolved and became a national leader in virtual care, innovation, physician wellness, education and research embodying Weill Cornell Medicine's credo of 'Care. Discover. Teach.'"
In the past five years, the department added nearly 30 physicians and scientists to its ranks, experienced a 362 percent increase in sponsored research—including a 225 percent increase in grants from the National Institutes of Health—and achieved a 230 percent surge in publications. A pioneer in telemedicine long before the COVID-19 pandemic, the department's use of the technology has improved health care access for New Yorkers—and offered a wider array of options for people seeking care in the emergency department—while also driving national dialogue about its potential to transform patient care. These and other achievements have established the Department of Emergency Medicine as a national model and set the stage for continued leadership in academic medicine.
In recognition of Dr. Sharma's accomplishments, the Friedman Foundation, along with the law firm Weil, Gotchal and Manges, directed by Weill Cornell Medicine Board of Fellows member Barry Wolf, generously established and endowed the Barbara and Stephen Friedman Professorship of Emergency Medicine.
"This professorship will allow us to further our mission of providing outstanding clinical care, conducting innovative research and driving change through education," said Dr. Sharma, who as of Nov. 1 will be the inaugural holder of the professorship. "I'm profoundly thankful to Barbara and Steve Friedman and the Friedman Family Foundation, as well as Barry and Weil, Gotchal and Manges for their support and confidence in our department, and I'm thrilled to see where the next five years will take us."
Innovation in Patient Care
Dr. Sharma, who is also emergency physician-in-chief at NewYork-Presbyterian/Weill Cornell Medical Center, now oversees operations at three additional Weill Cornell Medicine-affiliated emergency departments: NewYork-Presbyterian Lower Manhattan Hospital, NewYork-Presbyterian Brooklyn Methodist Hospital and NewYork-Presbyterian Queens. In total these emergency departments treat approximately 400,000 adult and pediatric patients annually, serving a diverse population in metropolitan New York.
"It is our responsibility in the emergency department to provide every single patient with compassionate, high quality care. Therefore, we constantly review best practices and optimize our models of care, an exercise that is vital to serving our diverse communities across Manhattan, Brooklyn and Queens," Dr. Sharma said. "It should not matter which Weill Cornell Medicine-affiliated emergency department you visit; you should get the same care in terms of stroke, trauma and sepsis, or any other condition, at any of our emergency departments."
To ensure this alignment in care, the Department of Emergency Medicine has spearheaded numerous research projects that evaluate various delivery models. "We can't just implement a program without studying the science behind it," he said. "This focus has as a direct impact on the safety and quality of the care we provide."
Telemedicine in the ED
The Department of Emergency Medicine is a nationally and internationally recognized leader in the fields of telemedicine and virtual care. Since launching telemedicine in 2016, the department has continued to use technology to develop innovative digital health services. These capabilities allowed the department to respond to the COVID-19 pandemic in 2020, which included the redeployment of non-emergency medicine faculty and the development of novel care and triage models.
"We must be prepared for the next pandemic," Dr. Sharma said. "And I must also say that our institutional relationships and ability to collaborate with other departments are crucial. We would never have come through COVID-19 if it weren't for the support and assistance we received from all the other clinical departments."
What was considered a burgeoning health care delivery model is now thriving in the pandemic's aftermath, with the department taking a leading role in its usage and optimization.
"Telemedicine is now a modality that patients accept, and, in some cases, even prefer, but the one thing we can't do is get too comfortable," Dr. Sharma said. "We must continue to optimize the process and improve the quality of care that we provide over a virtual platform."
Enter the Center for Virtual Care, for which Dr. Sharma serves as executive director, and which Weill Cornell Medicine established in 2020 to advance virtual care and to train clinicians on the core competencies of telemedicine.  This year, for instance, the Center for Virtual Care began training all Graduate Medical Education interns and residents across multiple specialties throughout the NewYork-Presbyterian system in telemedicine best practices. In addition, the center provides formal training in telemedicine to all Weill Cornell Medicine medical students.  
The department has secured several grants to study how to optimize the approach to make telemedicine and virtual care delivery most effective. "We need to continue to be leaders in this area, driving change," Dr. Sharma said, "and making sure what we're doing is improving health care and not just a novelty."
Research is Crucial for Departmental Success
During the past five years, the department has developed an expanded research enterprise, with multiple areas of focus, including geriatrics, telemedicine and virtual care, and global health.
"It's important to study different interventions and to evaluate different outcomes, whether they relate to patient outcomes, patient experience or quality of care," Dr. Sharma said. "Our research plays a key role in our ability to implement these interventions on a broader scale at our institution and beyond."
For example, the department's faculty teach both residents and medical students at Weill Bugando. In addition, department faculty members work with hospitals abroad, including in Pakistan, Uganda and India.
Innovation in Medical Education
The department maintains a commitment to training the next generation of physicians in emergency medicine. In 2022, Weill Cornell Medicine's Executive Medical Education Committee officially required all of its medical students to complete an emergency medical clerkship, which quickly became one of the institution's highest-rated clerkships.
"The emergency department serves as a safety net," Dr. Sharma said. "The majority of hospital admissions here, like at many other hospitals, come through the emergency department. Consequently, it's important for our future doctors and clinicians to understand how the emergency department works."
In addition, the department expanded its portfolio of fellowship programs to include those in global health research, medical education, simulation, and healthcare leadership and management. These programs join existing fellowships in pediatric emergency medicine and geriatric emergency medicine.
Building and Supporting the Faculty
The department is committed to cultivating a diverse and inclusive environment as that is fundamental to achieving excellence in education, innovation and patient care. It launched DiversifiED, its diversity committee, in 2020 to enhance awareness and sensitivity of diversity and implicit biases through education, engagement and outreach, as well as to recruit faculty, residents and fellows from groups traditionally underrepresented in medicine.
Additionally, the department is a nationally recognized leader in wellness and has implemented several programs to ensure that faculty and staff thrive personally and professionally. For example, the department hired additional scribes and increased shift breaks, offered a regular peer-support group as well as confidential therapy sessions, and encouraged faculty development through mentoring and support for faculty.
"If we don't take care of our faculty and our staff," Dr. Sharma said, "then they can't take care of our patients."