January 13, 2020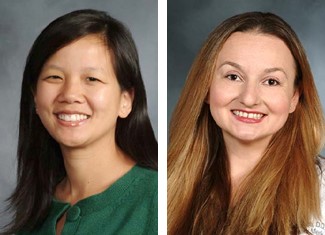 Drs. Sophia Lin and Susan Fraymovich, assistant professors of clinical emergency medicine and clinical pediatrics have been accepted into the Academic Life in Emergency Medicine (ALiEM) 2020-21 Faculty Incubator Program.  The year-long professional development program for educators accepts only 30 applicants each year.
"I am very excited for the opportunity and look forward to representing our department," said Dr. Fraymovich. For her part, Dr. Lin said "I am thrilled and honored to have been accepted into the ALiEM Faculty Incubator and look forward to a very productive year." The ALiEM Faculty Incubator program enrolls members in a mentored digital community of practice that aims to strengthen educational skills and produce tangible works of scholarship.
The program includes advanced training in medical education and scholarship development; it covers topics such as curriculum design, teaching and learning with technologies, teaching techniques, and educational research and study design.
Participants will also have direct access to nationally renowned leaders and opportunities to speak at national conferences, book clubs, and journal clubs.
Dr. Susan Fraymovich received her medical degree from New York College of Osteopathic Medicine in Long Island, New York. She completed her residency in pediatrics at Maimonides Medical Center where she also served as chief resident.  Dr. Fraymovich subsequently completed a pediatric emergency fellowship at Cohen Children's Medical Center, part of Northwell Health.
Dr. Sophia Lin completed her medical degree at Virginia Commonwealth University School of Medicine and her residency training in pediatrics at the University of California at San Francisco.   She also completed a second residency in emergency medicine at NewYork-Presbyterian Hospital. In addition to patient care, Dr. Lin is committed to medical student, resident, and mid-level provider education and training. She serves as an Instructor for ultrasound courses in emergency medicine and has taught several courses in wilderness medicine.
Drs. Fraymovich and Lin are expected to begin the program on March 7, 2020 which is Incubator Launch Day.