March 22, 2023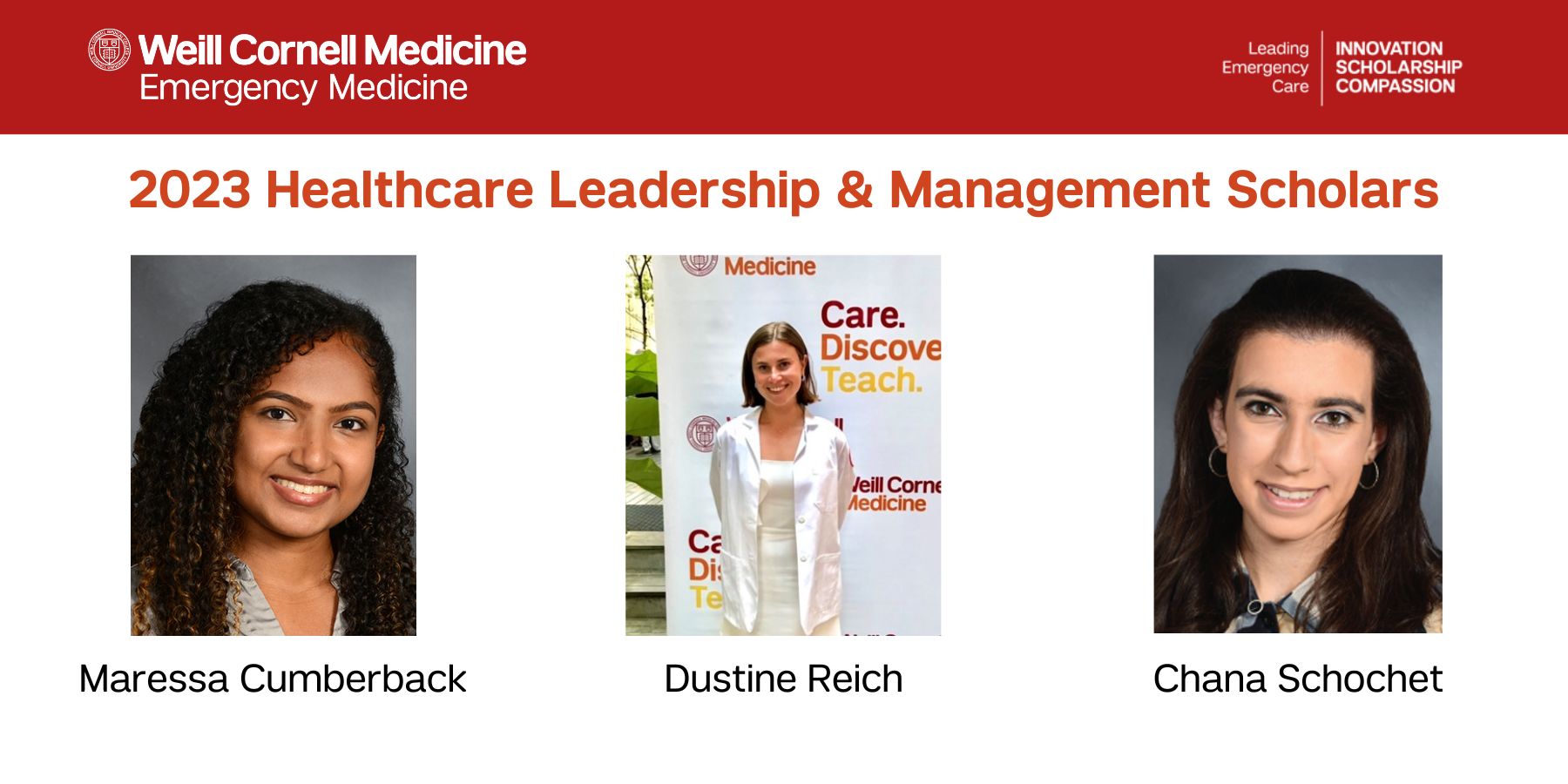 Now in its eighth year, our Healthcare Leadership and Management (HLM) Scholars Program prepares Weill Cornell medical students for future leadership roles in healthcare. This summer program offers students between their first and second years of medical school an opportunity to experience various aspects of healthcare management, including hospital administration and finance, clinical quality and patient safety, policy-making, and clinical operations management. Throughout their time in the program, the scholars will foster close relationships with hospital senior management and gain valuable insight into the healthcare system as a whole.
Join us in welcoming the 2023 class of HLM Scholars!
Maressa Cumberback
I am a first-year medical student at Weill Cornell Medical College. I graduated from Princeton University, majoring in Molecular Biology and minoring in Global Health and Health Policy in May 2021. I completed a research thesis characterizing the bacterial quorum sensing system of Vibrio harveyi and its therapeutic potential. During my undergraduate career, I also spent time exploring healthcare in underserved communities, particularly in a global health context. I interned with CanSupport, a non-profit outpatient cancer clinic in New Delhi, working with doctors, nurses, and counselors to provide medical care, psychosocial support, bereavement support, and socio-economic rehabilitation to lower-income patients in resource-stricken environments. After graduation, I worked as a Senior Analyst with Axiom Healthcare Strategies developing annual monitoring and point-of-entry analysis for biotechnology and pharmaceutical clients, such as Merck, Daiichi Sankyo, and Mirati Therapeutics. Now, in medical school, I am involved in multiple student-run clinics, WCCC and Wellness Qlinic, and the Peer2Peer mentoring program. 
I joined the Healthcare Leadership & Management Scholars program because I'm eager to better understand policymaking in hospitals, how to optimize the delivery of care and develop my abilities to adapt to and navigate the ever-evolving healthcare-research-business ecosystem. Through this experience, I hope to not only develop innovative ways of improving healthcare delivery and patient outcomes but also to better understand the impact of the various facets of the healthcare ecosystem on social determinants of health and patients. 
In my spare time, I enjoy traveling, dancing, attending live music events, and spending time with my friends and family.  
Chana Schochet
I am a first-year medical student at Weill Cornell. I did oncology research at University of Pennsylvania and the Weizmann institute after high school and graduated Valedictorian from Touro University. I shifted to greater interest in patient-facing healthcare during the COVID-19 pandemic when I worked as a phlebotomist and medical assistant in an underserved area of upstate NY. I had the opportunity to serve as the lead MA in the facility and coordinated COVID testing as well as primary care for a high patient volume. As the facility expanded and opened an Urgent Care division, I was one of the team members tasked with developing effective workflows and addressing patient care issues.
The Healthcare Leadership and Management Fellowship Program was one of the biggest factors that drew me to Weill Cornell and it was something I had been hoping to pursue since I was accepted here. Through my work as an MA I found that I really enjoyed thinking about and working on the logistics of healthcare delivery. I see healthcare administration as a way to make an impact beyond the patients I can directly treat, and I look forward to learning more about quality improvement and policy making in hospital management.
In my free time I enjoy baking, weightlifting and walking around the city.
Dustine Reich
I am a first-year medical student at Weill Cornell Medicine. I completed my undergraduate degree at Brandeis University in Waltham, MA with a BS in Neuroscience and Biology, and a minor in Music. I took two gap years between undergraduate and medical school where I worked as an epilepsy research assistant at Brigham and Women's Hospital and a lab technician at Massachusetts's General Hospital in Boston. During this time, I was the primary coordinator for several studies involving epileptic and brain tumor patients, and conducted an independent project on seizure onset zone for which I presented a poster at the 2021 American Epilepsy Society conference.
I chose the Healthcare Leadership & Management Fellowship Program because I am interested in a future career that involves clinical patient care and administrative leadership. I appreciate how changes made at a higher level have profound impacts on patient care and employee satisfaction, and I look forward to learning more about how policies and decisions are implemented at the larger hospital-wide level while honing my leadership and professional skills.
In my spare time, I enjoy exploring Central Park, admiring the brownstones on the UES, and finding new restaurants to try in NYC.